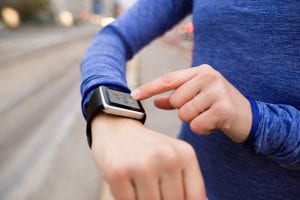 One of the things I remember from my childhood were the comic strips in the newspaper. The comic at the top of every Sunday's comic section was Dick Tracy. Dick Tracy was a police detective. The plots and the characters in the story of Dick Tracy always interested me. One of the most interesting aspects of this comic strip was the use of technology–technology that didn't exist yet. I will always remember how Dick Tracy communicated by means of his two-way wrist TV. Imagine being able to interact in voice and picture over a device worn like a wristwatch!
We had an Army Ordnance Depot in our town when I was growing up. My dad's cousin, whom we called Uncle Bill, worked there. One day he invited us to a special event they were having for employees and their families. There were examples of a lot of military technology there. I remember a model of the Russian satellite, Sputnik. The space race had just begun, and the US was creating technology at a very rapid pace. One exhibit I remember from this day was a video phone. At either end of a long building was a device where you could talk with someone at the other end of the room. Not only could you talk. But you could actually see the person you were talking with!
I am amazed at how commonplace it is to communicate with both voice and pictures, compared to what an impossible miracle it seemed when I was growing up. Today we conduct meetings using devices to transmit sound and video images. I remember hearing stories of people in the military being separated by time and distance from loved ones. The occasional phone call was the only communication alternative to letters. Facetime and other video communication platforms cannot make up for face to face communication, but they make it so much better.
We have doorbells that let us communicate with people who come to the door, whether we are in the house or across the country. In a crisis, personal, local, or global, it seems comforting to be virtually connected with others. It can help people maintain a connection with others who are far away. Years ago there was a ride at Epcot called Horizons. One phase of the ride showed different groups of the same extended family communicating over video screens from different locations, even different planets. In the final segment of the Carousel of Progress ride, the same type of distance communication took place using virtual devices that transmitted voice and video.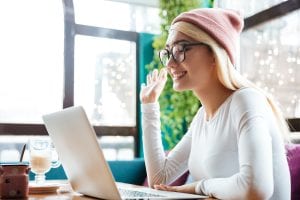 As we move forward, the role of virtual audio and visual communication is only likely to increase. The challenge is going to remain to keep relationships genuine and spontaneous as we spend less and less time in close physical proximity to others. Virtual meetings can save us time and travel, but can they really replace face to face interaction?
Working from home, telecommuting, can offer some real benefits, but can it fully replace interchange across a table from other people? As we move forward, we would do well to embrace a both-and rather than an either-or attitude to virtual technology. Nothing can ever totally replace one on one face to face communication with another person. May we have the wisdom to make the best use of virtual technology in enhancing, not replacing physical interaction in our relationships.
If you would like to receive new As We Move Forward posts,
please subscribe to the As We Move Forward mailing list by clicking here
. I release entries on a bi-weekly basis.
We have a podcast containing the As We Move Forward articles read by Jonathan Bloom.